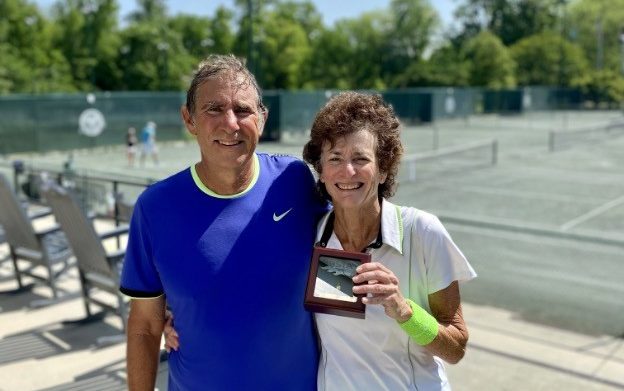 09 Aug

Member's Julia Barash & Arnold Resnick Awarded 2022 Mixed Doubles National Tennis Champs

Mizner Country Club's mixed double team of Julia Barash and Arnold Resnick added another gold tennis ball to their trophy case by winning the recent Mixed Doubles combined 140 Clay Court National Championships in North Carolina.  The tournament ran from April 29 – May 3, 2022. A gold ball is given when a player(s) wins a national tennis tournament. This is the second consecutive year that Julia and Arnold have won the championship.

"It is a fantastic feeling. We just had a lot of fun playing this tournament," said Julia. "We were able to cover the court nicely and not miss a lot of shots. We had a very nice rhythm going throughout the tournament."

Arnie agrees, "It was a very nice experience to be playing against teams from all over the country.  Our strategy to effectively lob and rush the net kept the opposing teams off balance.  We had a two-hour set that needed a tie-breaker. I knew that by the second set they were pretty much exhausted, giving us the edge."

The couple played three matches to win their group and 2 semifinals before reaching the finals.

In preparing for the tournament Julia noted they had not played any mixed doubles as she had torn her Achilles tendon. "As I was healing, I played with the Mizner Country Club's women's tennis program.  It helped me focus on team play. At the same time, Arnie was playing two times a week with the men's group."

It wasn't too difficult with understanding each other's moves and strategies, as Julia explains, "We're much more than a team.  We've been playing together since our first date. I know Arnie since first grade. I moved away and we reconnected at Cornell.  He was a sophomore and I was a freshman, both playing for our respective tennis teams. I realized that this was one date I would never beat!"

Over the years the couple began playing mixed doubles in several tournaments around the country.  One tournament comes to mind. Arnie recalls, "Equitable used to sponsor a family tournament — husband/wife, father/daughter, father/son – and the winning team from each region was invited to play at the US Open. When we moved to New Jersey from California we won the New Jersey/New York area and got to play at the Open."

Are they going for a third?  They simply answer, "If we stay healthy. It's hard to do two years in a row, a third would be tough. There are a lot of good players coming into our division whom we have seen and played with over the years. So, we'll see."

Julia said, "We both have trophies we've accumulated over the years, but this one is special coming together as husband and wife."

Mizner's Director of Tennis Vernon Gottone, stated, "On behalf of Mizner Country Club, I want to extend my congratulations to a wonderful couple whose skill and determination sets an example for all of us.  Throughout their time here at Mizner, it has been a pleasure to watch them grow and we wish them well as they go for that third gold ball."

Mackenzie Lalov, Mizner Country Club's Membership & Marketing Director, comments, "It's my utmost pleasure to congratulate our Julia and Arnie. This is a special moment for two people that worked very hard to achieve this amazing feat. They not only had to endure extremely competitive matches, but also the unique obstacles that personal injuries and Covid restrictions presented. On behalf of all of us at Mizner Country Club, I want to extend an enthusiastic congratulation.  We are deeply proud."

For more information on memberships at Mizner Country Club, please contact our Director of Membership, Mackenzie Lalov at [email protected] or 561-288-3300.